Te Wera Outdoor Recreational Trust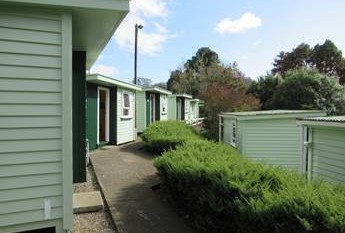 The TET has been a supporter of the Te Wera Outdoor Recreational Trust for many years and recently granted $55,000.00 to the Te Wera Outdoor Recreational Trust for operating expenses.
The Te Wera Outdoor Recreational Trust was established 37 years ago to develop Te Wera Valley Lodge and so provide an Outdoor Education experience for Taranaki School children whilst also providing an opportunity for families, community groups and tourists to experience the beauty and serenity of Eastern Taranaki.
In 1953 Te Wera State Forest then owned by NZ Forestry Corporation (Timberlands), was established with plantings of pinus radiata, with the aim of supplying timber to the Taranaki region. A single men's camp was built to provide accommodation for the forestry workers. By 1980 there was no longer a need for accommodation for these men, due to the forest being fully planted and the improved roads allowing workers to travel. The Camp was closed. Eventually the Department of Conservation became guardians of this camp site. It was then that a group of local people along with other clubs and organisations got together and decided to lease the facility to benefit youth. As a result of this, in 1981 the Te Wera Outdoor Recreational Trust, a non-profit organisation, was formed.
Te Wera Valley Lodge is situated 37 kilometres from Stratford on State Highway 43 and borders on the Te Wera Forest, a half hours drive from Stratford.
Today this voluntary group of people still continue to operate the facility and provide the opportunity for the educational, recreational, family and social groups to experience nature, outdoor activities and team building in peaceful and tranquil surroundings.
Trustees continue to donate time, their skills and labour to refurbish and further develop facilities at the Te Wera Valley lodge; this could not have been achieved without the support of the Taranaki Electricity Trust (TET).
On top of assisting with the operational costs of an onsite Caretaker / Manager TET funding has enabled the trust to address earthquake requirements for all the cabins, provide WIFI and cell phone connection and pay for the insurance premiums and assisting with meeting the myriad of other costs associated with this site. Countless numbers of Taranaki school children have experienced the wonders of the Taranaki Eastern Hill country by attending a school camp at the Te Wera Valley Lodge on Highway 43.