2021 TET Taranaki Masters Games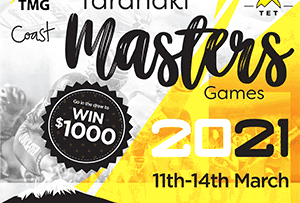 The 2021 TET Taranaki Masters Games are scheduled to run from 11 - 14 March
There are 22 great sports on offer for the 2021 TET Taranaki Masters Games (TMG). There is something for everyone, individual sports and team sports included. Team sports each have a competitive and social grade.
To enter on line go to the TMG website: www.tmg.org.nz
This website includes information on those sports who are hosting on alternative dates. The registration fee is $15.00 per person. Entries received after 04 March, have a registration fee of $25.00. The cost to enter sport is specified on the website.